by Donna Cain
We are finishing up our winter projects, thinking about spring and moving out to the gardens. For all our repeat guests and new guests that are scoping out the perfect room for their summer holiday on Cape Cod, I thought it would be fun to show you a sneak preview of all the improvements we have made. In our 12 years of inn keeping, we have never made so many improvements and the results have been very gratifying. Some are decorating touches, one is a new room but most of the changes will improve our guest's comfort. Our web site will be updated with Byron's professional pictures in a few weeks, but in the meantime, I had fun taking pictures with my phone camera.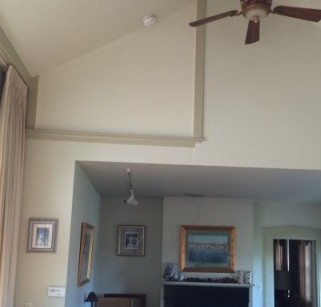 The first change guests will notice is the new wall that was added in the gathering room. Byron has a beautiful photograph that we are going to place in that area.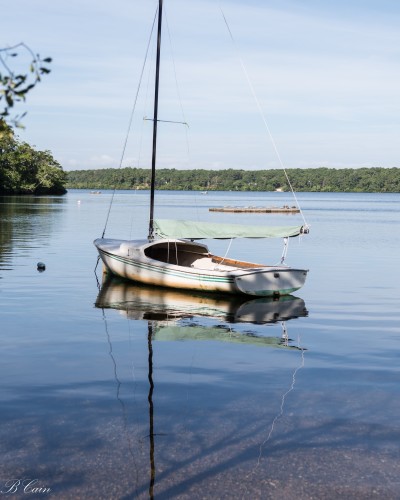 While we love to showcase this great shot of a sailboat moored in the Punkhorns, the real reason is that we wanted to make the Loft suite quieter. We added insulation and doubled walled the space that use to be open as a balcony to reach the attic. The sound difference in the suite was amazing and while Byron was yelling below in the gathering room and I was in the Loft,  I could only hear his sound down through the back staircase and out the doors that were open. We were totally amazed!
And now onto the Loft (aka the Belle Suite) -we added hardwood floors with warm area rugs.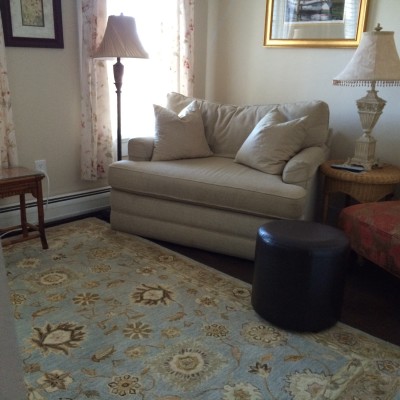 and a new electric stove….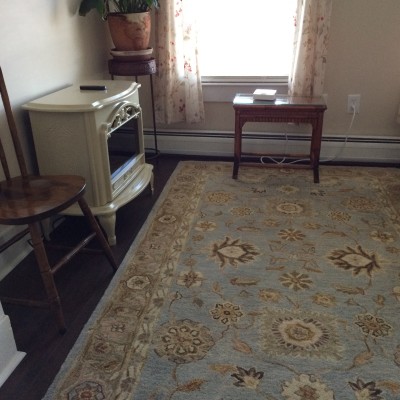 and because all wonderful guest rooms are all about the baths…. new paint and granite in the bath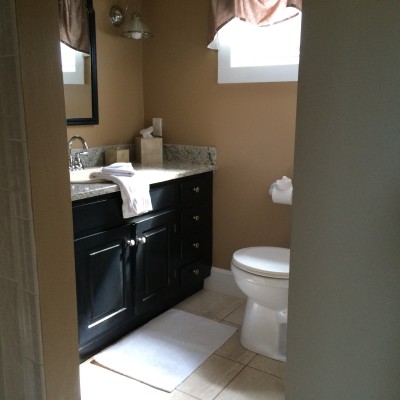 The Garden is such a lovely deluxe room with a private patio that has been very popular over the years.  I always loved the decor in that room that included a floral wallpaper in the bath and a black and white toile motif in the bedroom. With Byron's urging that it was time to redecorate, I must admit the transformation has been dramatic and very pleasing.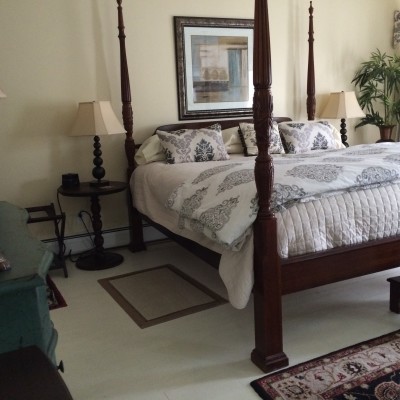 We replaced the dated cherry night stands and lamps with a simple modern design that matches the traditional cherry 4 poster and added new bed linen with a black and grey motif.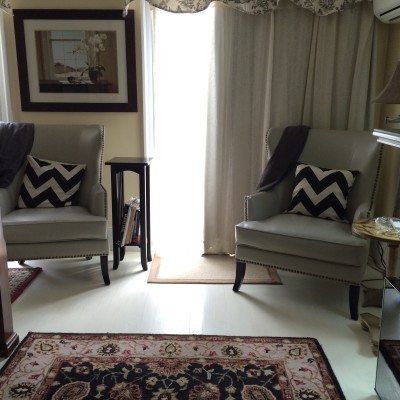 New leather library chairs in light grey and as always I had fun moving the artwork around:)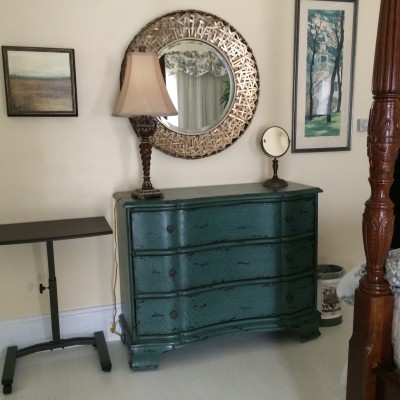 New painted dresser and mirror replaced the dated 18th century dresser and mirror. I must say, I don't miss the old furniture which was sold at our local consigning shop for someone else to enjoy.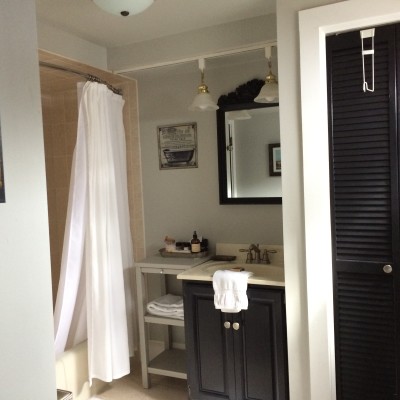 Tadaaaaa….Garden room's new bath in a light grey tone and black accents. We added a new bathroom storage unit that works perfectly beside the vanity.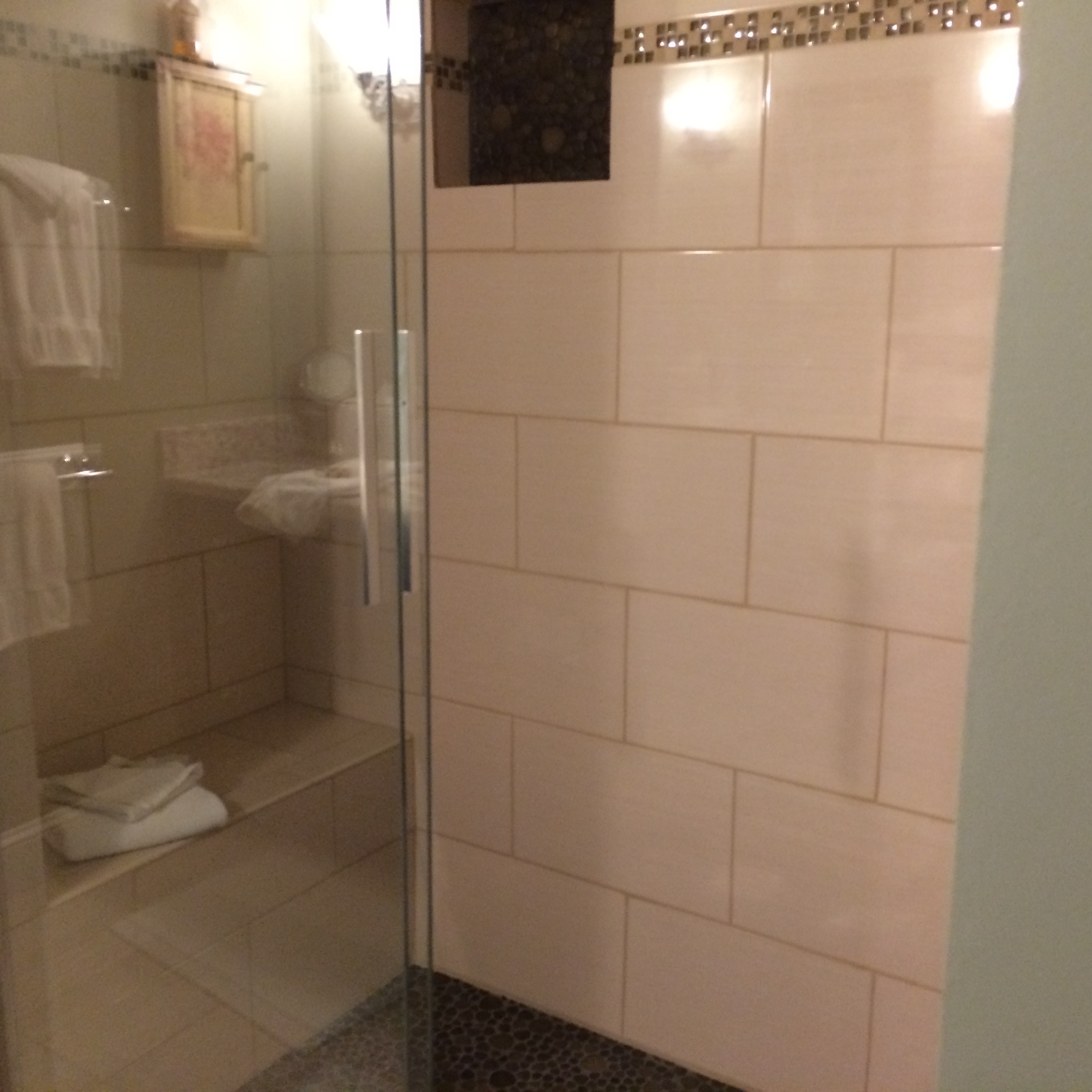 New deluxe surround shower in Acorn room. We are having so much fun designing new bathrooms and the Acorn bath boosts a deluxe rainforest shower head with a comfortable sitting area in the shower.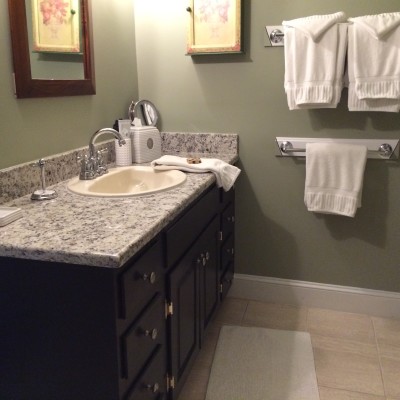 New granite vanity and paint in the Acorn bath.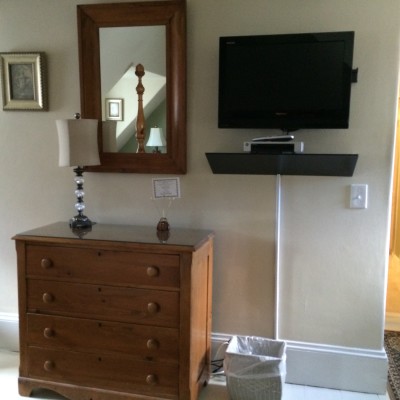 New lamp and wall TV with shelf allowing more room on the dresser top for guests.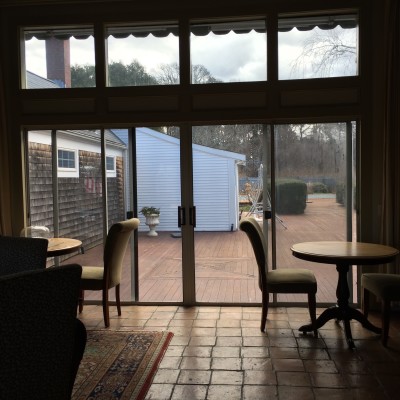 The last of our projects in the Main House includes new window treatments for the sliders  leading onto our beautiful terrace. We finally decided to go with blinds on the upper and simple cream drapes on the lower.
Onto our Orchard House where we are building a wonderful new one bedroom apartment. Since it is new, we are going to price it very competitively to make a long stay with us both comfortable and affordable.
We are calling the new space our Patio Suite as it has a spacious private patio, living room, kitchen, private shower bath and king bedroom with spacious closets. Both rooms are very sunny and spacious.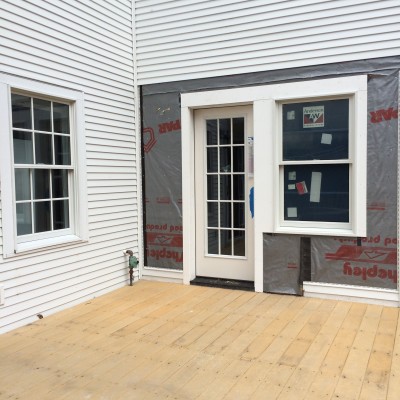 New French door and window in the bedroom area.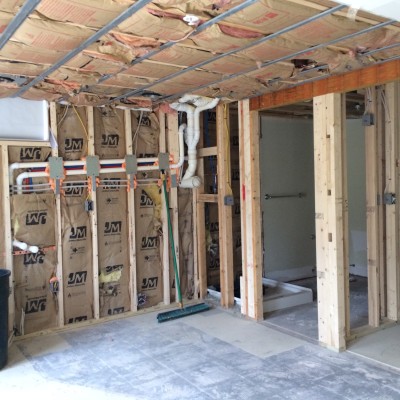 Kitchen and bath in progress….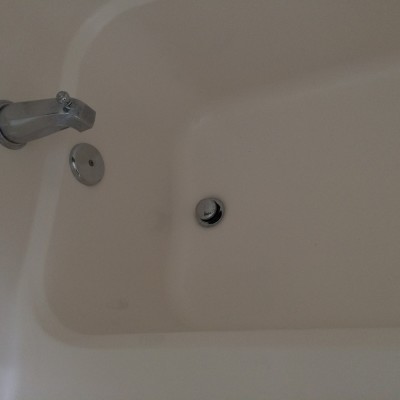 O.K…….everyone says that inn keepers are crazy but this wonderful new tub drain really excites me thanks to our wonderful plummer Jason. Ever since I can remember the drain in the Refugio tub has never worked well. We could always temporarily repair it but it would always come loose and cause problems for guests that wanted to take a bath. It was not an easy repair as it could only be reached from below where there were support columns. Thanks to our wonderful contractor Derek and Jason, we now have a new very functional touch drain. For all those guests remodeling baths this is a wonderful new drain option as you just need to touch it with your toe to release the water.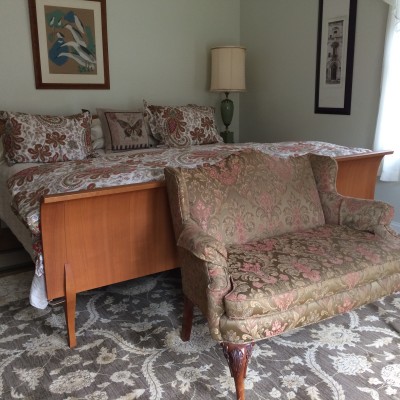 New artwork, settee, bed linen and rug for our deluxe Refugio Suite. Just love how everything blends together.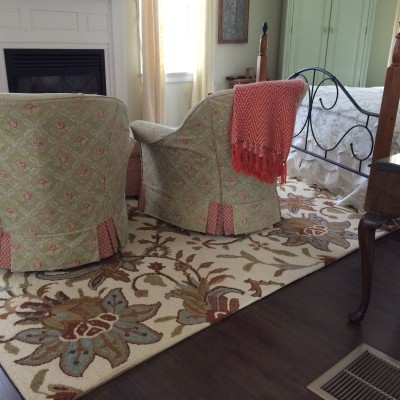 New hardwood flooring and designer area rug for our comfortable Beach Blossom room.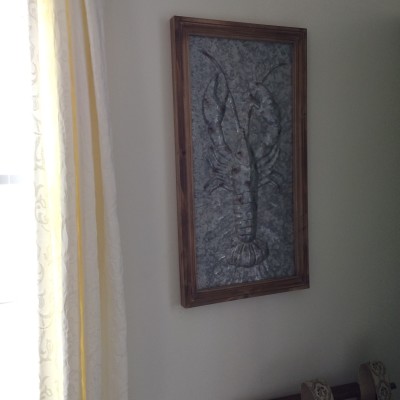 New lobster artwork for Beach Blossom:)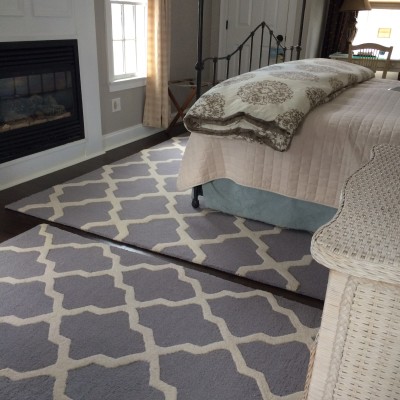 Sea Meadow is one of our more popular rooms and everyone loves the grey wall color. We added new hardwood floors and a thick, lush area rugs.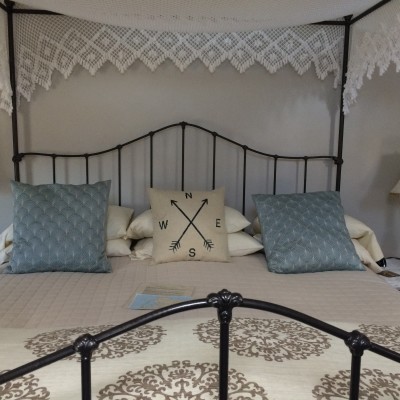 Along with new bed linen that coordinates perfectly with the other colors in the room. The canopy bed is both romantic and modern!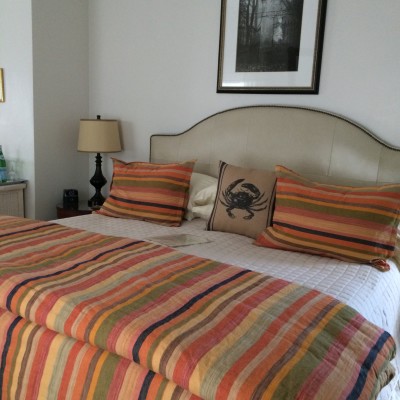 New artwork and bed linen in Bayberry. This is still my favorite rooms and everything else is perfect!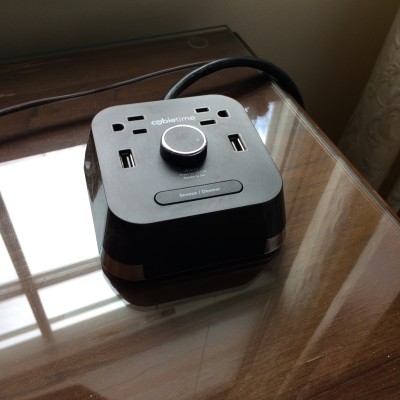 Keeping up with technology, these new gadgets are on each night stand at both of our Cape Cod bed and breakfasts.. They include easy plug in charge adapters for your devices and all the deluxe rooms include Blue Tooth capability as well.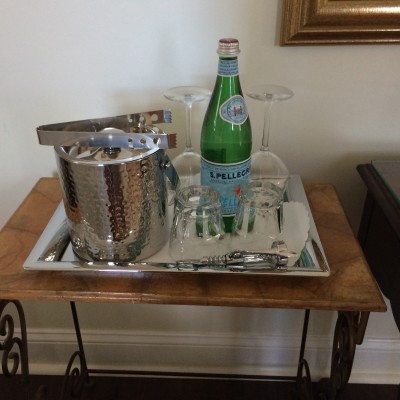 And continued from last year, we always include a bottle of complimentary Pellegrino sparkling water and have an ice machine close by for that afternoon cocktail.
Here's to a wonderful summer filled with sunshine and plenty of beach time.