Romantic and Relaxing Guest Rooms at Our Brewster, MA Bed and Breakfast
Brewster By The Sea Inn offers three king rooms and one king suite, all located in our guest house – The Orchard House, which was built in 1988 in the spot where the original barn was located. Each room is individually decorated with a vision of casual elegance with a bright, calming and comfortable ambiance.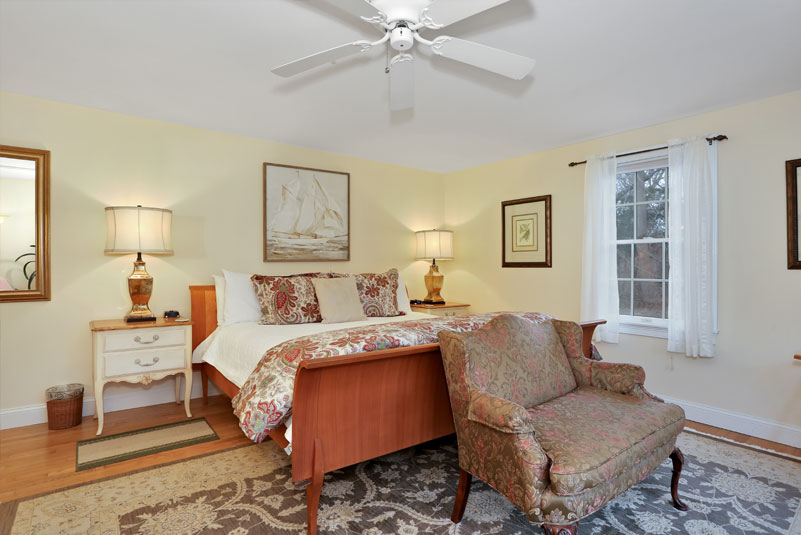 Our Refugio Suite is our most popular and deluxe accommodation. It is a spacious two-room king suite located on the first floor of the Orchard House. It is quiet and uplifting with plenty of southern Cape Cod light. The suite has a private deck off of the bedroom, which faces the back lawn of the Inn. The kitchenette includes a sink, small refrigerator and microwave. The living room with its own television separate from the bedroom, has a comfortable leather sofa facing a gas-powered fireplace. The private bathroom has a shower/tub combination with plenty of room for your personal items.
Rates are for two people. Add $99.00 per night for each additional person.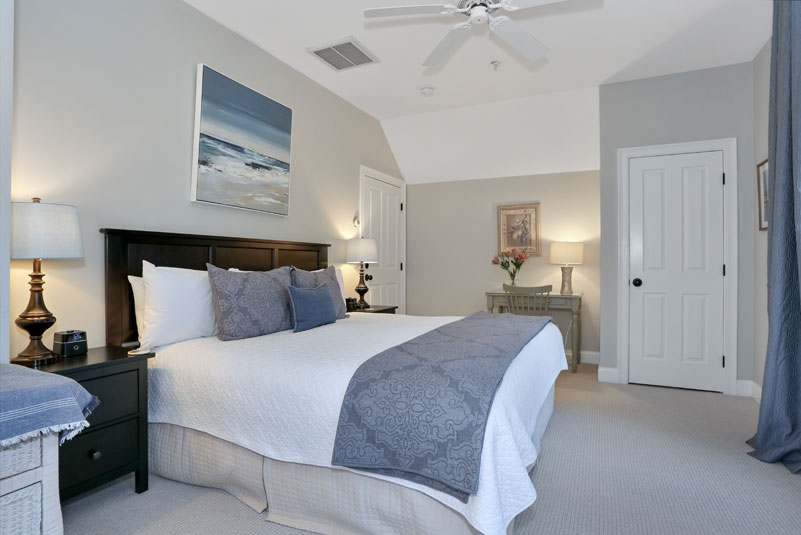 You'll find serene and soothing colors in this spacious southern-facing corner king room on the second floor of the Orchard House. There are windows on the southern and western sides of the room which provide sunlight all day long. The view is to the south, overlooking the back lawn of the Inn. A gas fireplace adds coziness to the comfortable sitting area, and a writing desk is available as a spot to write your postcards to friends and family. The private bathroom has a tub/shower combination with plenty of room for your personal items.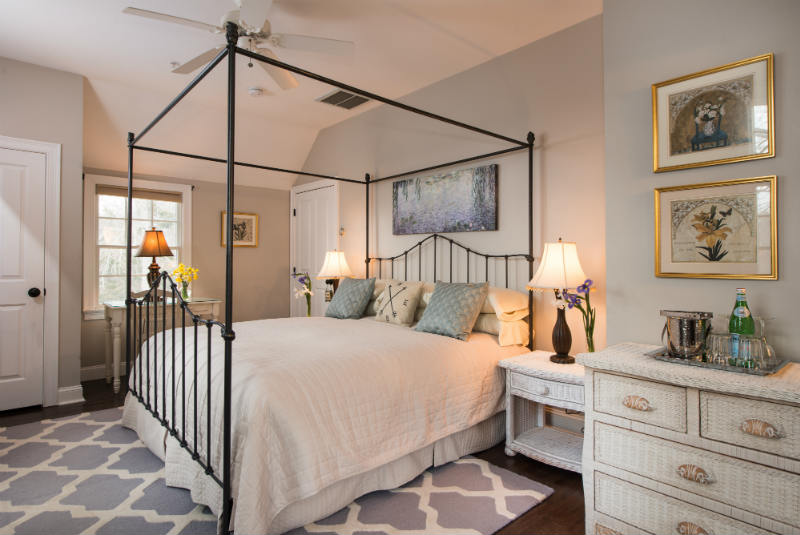 Located on the second floor of the Orchard House, our Sea Meadow Room has windows on all three sides. Its cathedral ceilings add to making for a light and bright experience. The view is to the north, overlooking the road toward Drummer Boy Park, which is especially romantic in the winter when the historic windmill is decorated with Holiday Lights. The room has a writing desk, perhaps for an entry in your travel journal, a comfortable sitting area and a gas-powered fireplace. The private bathroom has a tub/shower combination with plenty of room for your personal items.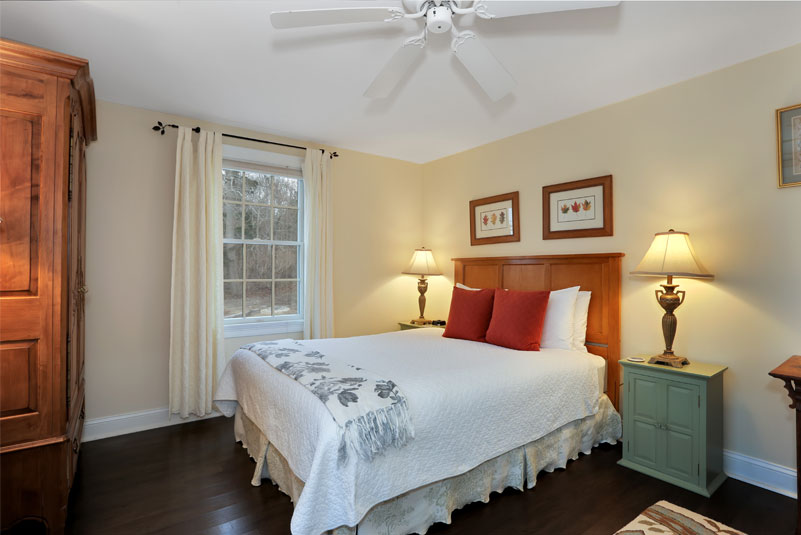 For guests desiring a comfortable first-floor king room, with convenient access to a small refrigerator and our Coffee/Tea Butler Area, our Beach Blossom room is for you! This room is a corner room on the northeast side of the Orchard House, with three windows on two walls and a gas-powered fireplace. The private bathroom has a tub/shower combination with plenty of room for your personal items. The view is to the north, over the road toward Drummer Boy Park. For convenience, this room also has its own designated parking space.
With superior attention to detail, and a philosophy of using all-natural materials, we lovingly prepare our rooms to pamper you during your stay, including:
100% Cotton Percale Matouk Sheets on our triple sheeted beds.
100% Wool Sonoma Wool Company comforters and pillows, encased in 100% cotton fabric. (Synthetic fiber bedding are available upon request.)
100% Cotton and 100% Linen bath towels
100% Cotton Waffle Robes
100% Cotton Beach Towels for your use on day trips during your stay.
100% Natural Bar Shampoo, Conditioners and Soaps made in small batches in the USA Soap Cauldron
100% Natural Lotions and Foam Soaps made right here on the Cape Summerhouse Soaps
100% All Natural and Homemade Lavender Spritzer Spray
All of our rooms offer:
Private bathrooms with a tub/shower combination.
Gas fireplaces
Refrigerator/freezer
K-Cup Coffee Maker
Flat Screen HD Televisions with Cable
Hi-Speed WiFi Internet Access
Individually controlled Air Conditioning Units
Dining table and chairs
Comfortable seating/reading area for two.
Room-Darkening Shades and Curtains
Irons and Ironing Boards
Hair Dryers
Our Complimentary Comforts
Your Stay Includes:
Hearty, home-made breakfast served each morning on our sun-filled patio, or brought to your room on rainy/chilly days.
K-cup Coffees and Teas in your room, with Glass-Bottled water (no plastics, here!)
Homemade Baked Treats each afternoon.
Saltwater swimming pool with pool-side towels.
Parking.
A pandemic escape!
Amy and her staff are incredible. The attention to detail is hands down the best. Given all that is going on in this Covid-19 world, we felt safe and comfortable. Check-in was contactless. Our room was perfect. The breakfasts were wonderful and loved the cookies in the afternoon. The icing on the cake was Sweet Pea, Amy's dog, an absolute love! Amy, thank you, we'll be back!
— TripleAMom, July, 2020
Outstanding getaway!
This was our second time staying at this lovely inn. The rooms are tastefully decorated and the grounds are both spacious and tranquil. There is even a pool which is an excellent way to cool off after a day exploring the nearby trails or bike path. The breakfasts are creative and delicious and very filling. Amy, the owner and innkeeper is wonderful. She takes great care of the property and is so welcoming to her guests. She is very gracious in helping with advice on what to do in the area and making dinner reservations. We were among her first guests as Massachusetts began to "open up" during the Covid 19 crisis. She took great care to assure that everything was done to make her guests safe and comfortable. We look forward to returning.
— Pat I., June, 2020
A very enjoyable and relaxing stay
We had another wonderful experience here at Brewster By The Sea. Lovely walks on the Flats and enjoying the local food! In spite of COVID, Amy & staff helped us feel SAFE and at home!
— Ross & Patricia, Delmar, NY 6/26/20
Another Memorable Weekend
Thank you for everything, Amy! We had a wonderful getaway. Your Inn and all of your extra touches make this place so special. We look forward to returning soon.
— Patti & Joe, North Readin, MA 06/14/20