The number one question I seem to get at breakfast time at Brewster By The Sea Inn is, "how do you make your poached eggs so perfect?"  "They don't look weird like they came out of an egg poacher!"  Well, I suppose that is because I don't use an egg poacher.  You don't need one!  
I love making poached eggs, it is the perfect protein topping to a Caprese Salad with a drizzle of  balsamic vinaigrette glaze, Avocado Toast, a classic Eggs Benedict, or just about anything!  Poached eggs are so healthy because you're not using any extra butter or oil to cook them.  And they are the easiest egg to make as a host, because somebody's over-easy is another person's over-medium.  And some like some crunchy brown edges on their fried eggs, while others want perfectly-white whites – no brown at all!  Well, there is no guess-work with poached eggs and they are definitely a crowd pleaser!  
The key, as with anything, is using the right tools for the job:  a stainless steel saute pan, distilled white vinegar, little glass bowls, a plate with an absorbent cloth (I love using linen), and a large, round slotted spoon.  
Here you go – the perfect poached egg:  
Boil your water in the saute pan – I use an all-clad pan with about a 3-inch wall.  Fill the pan with water as high as possible so the eggs will have room to form into their shapes, and add a splash of the white vinegar, which will keep the egg whites together.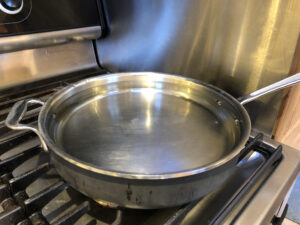 Crack your eggs into the glass bowls.   One egg, per bowl.  Crack them on a flat surface – your counter, rather than a ridge of a bowl, to ensure you keep the egg white as intact as possible.  Crack them gently into the bowls – you're not making scrambled eggs here.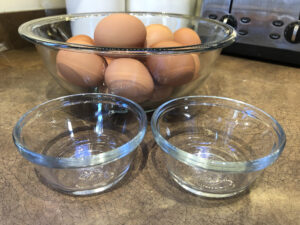 When the water is at a full boil – I mean FULL boil, pour the eggs into the water.  I make 4 at a time.   I pour them with the small bowl facing the edge of the pan, say 1 O'clock, 4 O'Clock, 7 O'clock and 11 O'clock.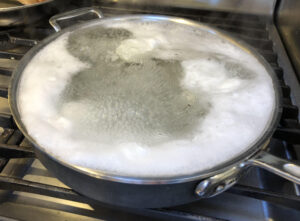 Hit the timer for 3 minutes and 15 seconds, and let the water do its thing.  During these next few minutes, you can prep your toast, or whatever else you are serving your eggs with.  
When the timer beeps, use your slotted spoon to take each egg out and place the egg on your plate with the absorbent cloth.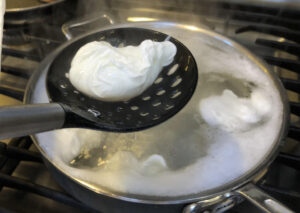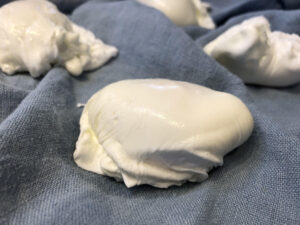 Let them drain/cool for a minute or so, while you prep your toast, etc.  
Pick them up gently with your hands to place on your prepared toast, etc.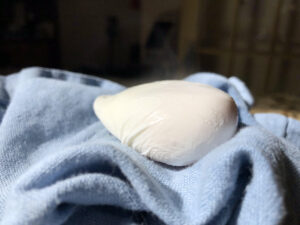 And there you have it – easy peasy!