Amy is thrilled to be stepping into Donna and Byron's shoes as the new owner of Brewster By The Sea! Amy became a wash-a-shore as a toddler in the early 1960's when her family drove from Westchester County, New York to spend their summer vacations in Chatham. Her folks made Chatham their home in 1990, and the Cape has always been a big part of her life.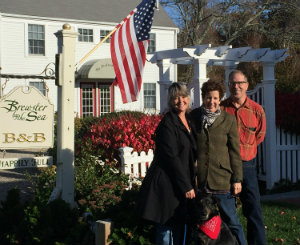 Now, after almost 30 years of living on the West Coast, she is excited to be making Brewster her final home. Last August, Amy retired from a 25-year career in non-profit land conservation, most recently with the Sonoma Land Trust in Sonoma County, California. She loved working with local farmers, ranchers and forest landowners to help them figure out how to keep their farms and ranches intact and working, while continuing to lovingly steward the natural resources. Local food continues to be a passion of hers. She spent about ten years in Portland, Oregon, where she went back to school and practiced commercial real estate law for a bit.
Most recently, she lived and worked on a sheep ranch in Valley Ford, California, which is where she created Sonoma Wool Company. She uses Pozzi Wool sourced from local ranches to create practical wool products for the home — bedding, dryer balls, dish drying mats, etc.!! Her son, Sawyer, will be graduating from the University of Hawaii in May, 2017 with a degree in Creative Media. To round out the picture, she has an adorable Dutch Shepherd/Lab mix named Sweet Pea, who absolutely loves her new Cape Cod home!
Join us at our charming Cape Cod bed and breakfast and say hello! Come stay with us in spring and save with our Romantic Escape Special.