by: Elizabeth Newcomer, Innkeeper
As an innkeeper at a busy bed and breakfast, I do a lot of baking and fortunately I love it. Somehow, during the holiday season, I find I love baking even more and while we can't really do a cookie exchange with all of our guests, I figured the next best thing I can do is share a favorite new recipe that my family is going nuts over this season! My mom came across the recipe for these Guinness Chocolate Chunk Cookies in an old issue of Cuisine Holiday Baking magazine and I have to say I was impressed.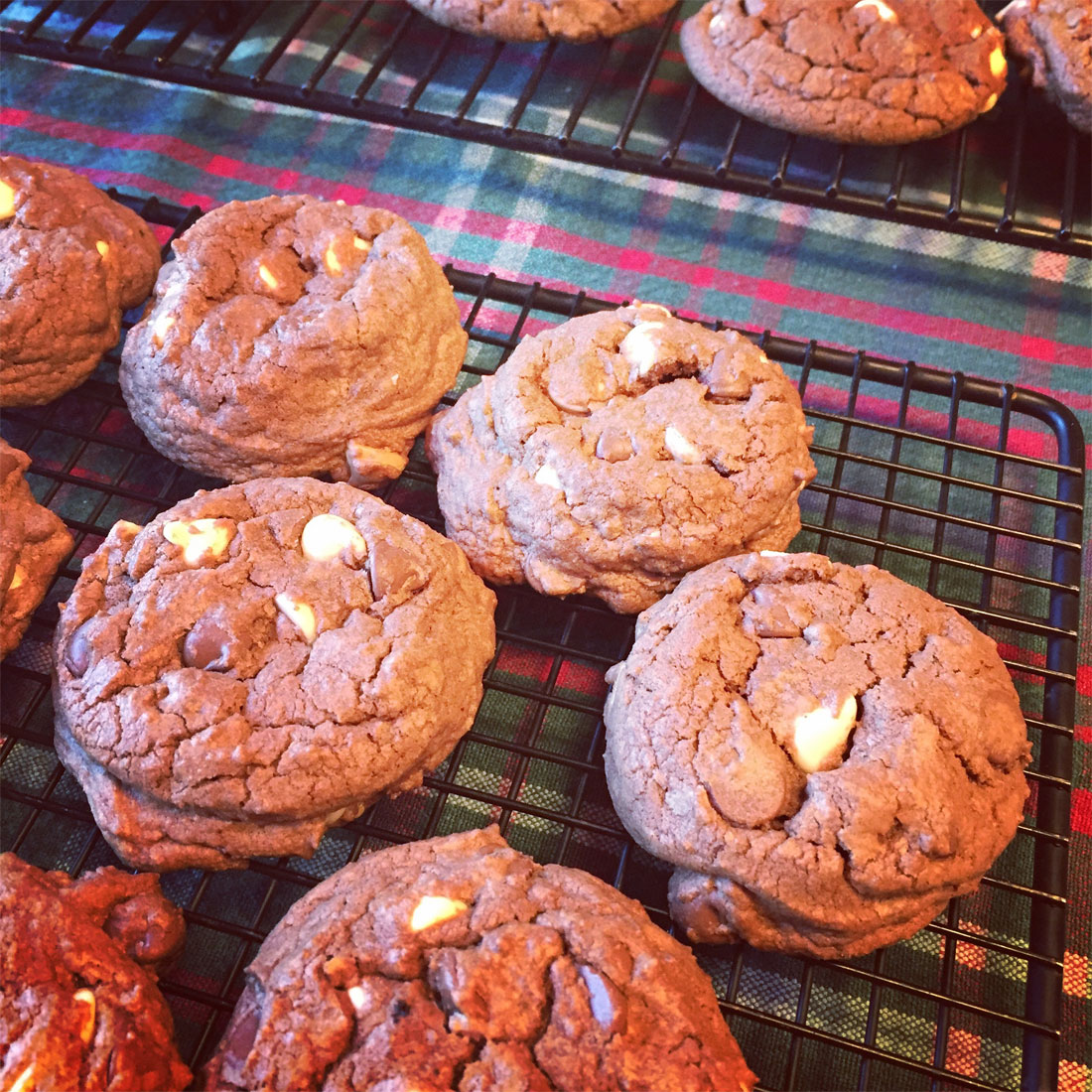 Now some of you may be asking, "Beer in a cookie?" All I have to say to that is YES! The stout doesn't make the cookies taste like beer, instead it adds wonderful rich, malty and caramel undertones with hints of coffee! Chocolate lovers – give this recipe a whirl! Happy Holidays from my kitchen to yours!
Guinness Chocolate Chunk Cookies
Cook time:
Total time:
Ingredients
2 bottles Guinness stout beer (12 oz. each)
1/2 cup brown sugar
2 3/4 cup al-purpose flour
1/3 cup unsweetened cocoa powder
1 tsp. instant espresso powder
3/4 tsp. baking soda
1/2 tsp. salt
1 stick unsalted butter, softened
1/2 cup shortening
1 cup granulated sugar
1/2 cup brown sugar
2 eggs
1 tsp. vanilla extract
2 cups white chocolate chunks
1 cup semisweet chocolate chunks
Instructions
Preheat the oven to 350 degrees. Line baking sheets with parchment paper.
Reduce the beer with 1/2 cup brown sugar in a medium saucepan over medium-high heat until mixture is syrupy and measures 1/3 cup, 30-45 minutes. Remove syrup from heat; set aside to cool slightly.
Whisk together flour, cocoa, espresso powder, baking soda, and salt in a bowl and set aside.
Cream butter, shortening, granulated sugar, and 1/2 cup brown sugar in a bowl with a mixer on medium speed until fluffy, about 3 minutes.
Add beer syrup, eggs, and vanilla; mix to combine.
Stir flour-cocoa mixture into creamed mixture until flour is no longer visible. Fold in white and semisweet chocolate chunks until distributed.
Scoop dough (about 2 inch balls) onto prepared baking sheets. Bake cookies until edges are set, 12-14 minutes. Let cookies cool 2 minutes on baking sheets, then transfer to a rack to cool completely.