Header image: Lobster roll at Arnold's in Eastham. Photo Credit: thebiblioholic/Flickr.
If there's one thing you do when you visit Cape Cod, be sure to enjoy our area's amazing seafood! Whether it's striped bass caught fresh in Cape Cod Bay or lobster pulled from a trap off the Outer Cape, you won't be disappointed.
One of our most famous delicacies is the lobster roll. Nothing beats a lobster roll (served hot or cold) in a toasted, buttered bun with a side of coleslaw and french fries. We've pulled together our top five places to get a lobster roll on Cape Cod. Use it as an excuse to check out a new Cape Cod town, or try all five!
A quaint, family owned and operated restaurant, Sesuit Harbor Cafe knows how to make an amazing lobster roll! It's served with crispy french fries and homemade coleslaw. Another reason to visit Sesuit Harbor Cafe? The view! The restaurant is set right next to Sesuit Harbor, giving you a picturesque view of Cape Cod Bay. One thing to note – it's a cash-only establishment, but there is an on-site ATM.
Enjoy a lobster roll that's just as amazing at the view at Brax Landing. Situated right on Saquatucket Harbor, Brax has unbelievable views of the water from every angle – from the deck, bar, and dining room! After you've finished one the Cape's best lobster rolls, relax down by the firepit and take in the view.
Arnold's Lobster & Clam Bar is conveniently located directly off Route 6 in Eastham, making it the perfect spot to swing in for lunch or dinner on your way home from the Outer Cape's beaches. Arnold's lobster roll is rated one of the best on Cape Cod, and can't be missed. If you still have room, try the onion rings or fried clams – they're both unbelievable!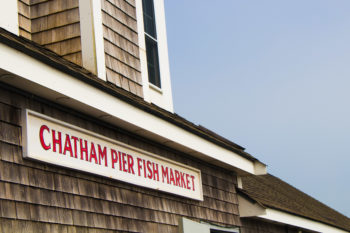 Tucked away from the bustling Main Street of Chatham, the Chatham Fish Pier Market is situated right in the midst of a busy operating fish pier. Grab a seat at one of the picnic tables and enjoy a beautiful view of the water while you're dining on a lobster roll made with freshly caught lobster.
There's still time to plan your 2019 summer vacation on Cape Cod! We have rooms available, but they fill up fast, so book your stay today! We'd love to host you.