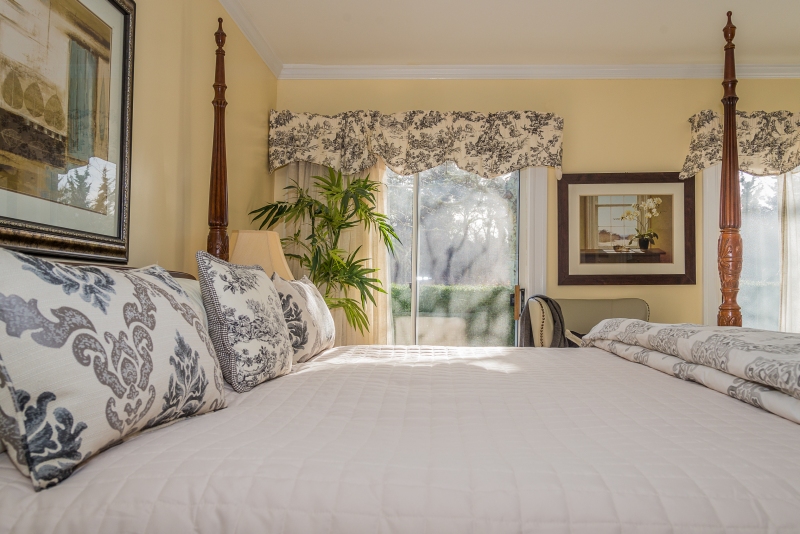 "I want my guests to experience what I would create for my family – and that means all-natural, breathable bed linens." ~Amy
We put a lot of energy into ensuring our guests get a good night's sleep, which is essential for your health and well-being. We want you to wake up feeling rested, rejuvenated, and ready to take on the day! So, in addition to our beautiful surroundings and enchanting experiences, we offer the comfort of 100% natural bed linens to make bedtime a luxury. We use 100% wool toppers, comforters and pillows, all covered by 100% cotton sheets and pillowcases.
Here are 8 benefits of sleeping in a bed at Brewster By The Sea Inn:
Wool Breathes and Regulates Your Body Temperature – We all perspire as we sleep. Synthetic (think microfiber) and down bedding traps perspiration next to your skin causing you to go from hot and sweaty to chilled as the moisture starts to evaporate. These temperature swings signal your heart to work harder, which causes you to toss and turn, adjust your covers, and use precious energy. The result is disturbed sleep. Wool, on the other hand, is the only fiber that breathes. Wool absorbs perspiration and wicks it away, keeping your heart rate low and your sleep undisturbed.
Cotton Sheets and Covers – We use crisp percale sheets, freshly laundered and ironed without harsh chemicals. And we cover our wool comforters and pillows with 100% pure cotton, not "wrinkle-free" cotton or a poly/cotton blend. Why? Because cotton, too, allows air to circulate around you as you sleep.
In-House Laundry – I searched and searched for a laundry service that doesn't use harsh chemicals but couldn't find one. So, we decided to do our laundry in-house. I enhance our laundry soap with natural ingredients (vinegar, baking soda, washing soda), and never use chemical fragrances. Some people think I'm crazy to do our laundry but keeping chemicals away from your environment (especially where you sleep!) is a priority! We spend A LOT of time ironing our crisp percale sheets, but you're worth it!
No Toxic Chemicals – Synthetic bedding products (microfiber and "wrinkle-free cotton" sheets) are created with plastic polymers, which are not healthy to sleep in and cause damage to the environment, both in their production and during their life cycle.
Anti-Microbial – Wool is naturally anti-microbial, anti-bacterial and hypo-allergenic – again, because it breathes.
Health Benefits of Wool – Wool promotes blood circulation and soothes pressure points as well as aches and pains.
Natural Fire Retardant – Wool is naturally fire-retardant (which is why you see fire-fighters wearing it). The fiber smolders, instead of melting or flaming. In the event of a fire emergency, you can wrap yourself in a wool comforter or blanket for protection.
Environmentally Friendly – We strive to use products throughout the Inn that are sustainable, renewable and have as little impact on the environment as possible.
These are just a few reasons why our 100% natural bed linens create an incredibly relaxing and comfortable stay. If the rest you experience at Brewster by the Sea Inn is one you would like to replicate in your own home, the products of Sonoma Wool Company* are just a click away!
*Full disclosure: "I am so passionate about all-natural fibers and supporting family ranches that I started Sonoma Wool Company when I was living on a ranch in California, a company that makes the bedding products we use at the Inn!" ~Amy