by: Elizabeth Newcomer, Innkeeper
I'll be the first to admit, I talk a lot about food on this blog. One might even say I'm a little obsessed, that I'm a bit of a foodie; well I can't help myself! Every once in a while though, I come across a subject that I want to learn more about that has little to do with food and today that subject is tea.
Afternoon tea service at bed and breakfasts is a long standing tradition and while we mostly focus on the sweet treats we serve our guests in the afternoon, the actual tea should not be pushed aside! I received a wonderful holiday gift from a good friend who works in Washington, DC which was a Magic Tea Maker (pictured below) and a set of three very interesting sounding loose-leaf teas from the company Capital Teas.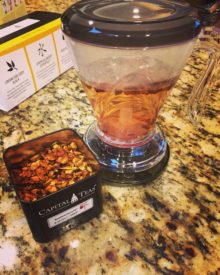 Capital Teas was founded in 2007 in Annapolis, Maryland and is family-owned and operated by 5th generation tea merchants! Their mission is to "educate people and inspire lives through the wonder of tea, one cup at a time". They do this by maintaining a century-plus tradition of excellence in tea by sourcing only the highest quality teas from around the world.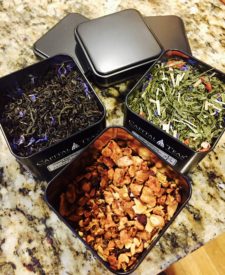 The three unique flavors of tea I received as a gift were: Roasted Almond (middle), Cream Earl Grey Black (left) and Green Gojiberry Superfruit (right). I can't wait to try each variety while I snuggle by the fire and blog this winter!
For people like me who don't know much about tea, we have it easy by using individual tea bags that have the correct proportions already measured out and they tell you exactly how long to steep your tea for. What about for loose tea? Here are two helpful charts that I found useful: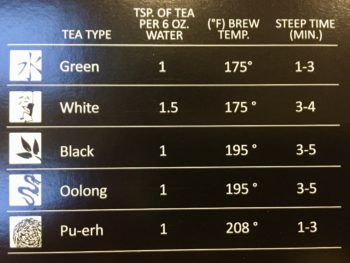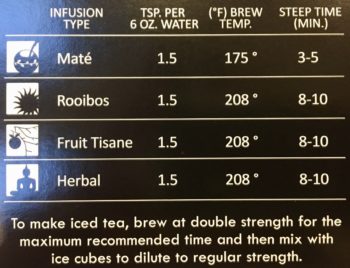 I still have much to learn about tea and its appreciation and I hope I've peaked your interest so you might join me on this exploration! Try something new in 2017!
"You can never get a cup of tea large enough or a book long enough to suit me."
– C.S. Lewis